A THANK YOU TO THE HEROES OF THE VILLAGE DURING THE COVID-19 RESTRICTION
Members of Valley Community Council would like to convey their heartfelt thanks to all in the village, whether they be businesses, individuals, families, volunteers or groups who have come together to offer, and are continuing to offer, exceptional support to the vulnerable residents of the village during the COVID-19 restrictions.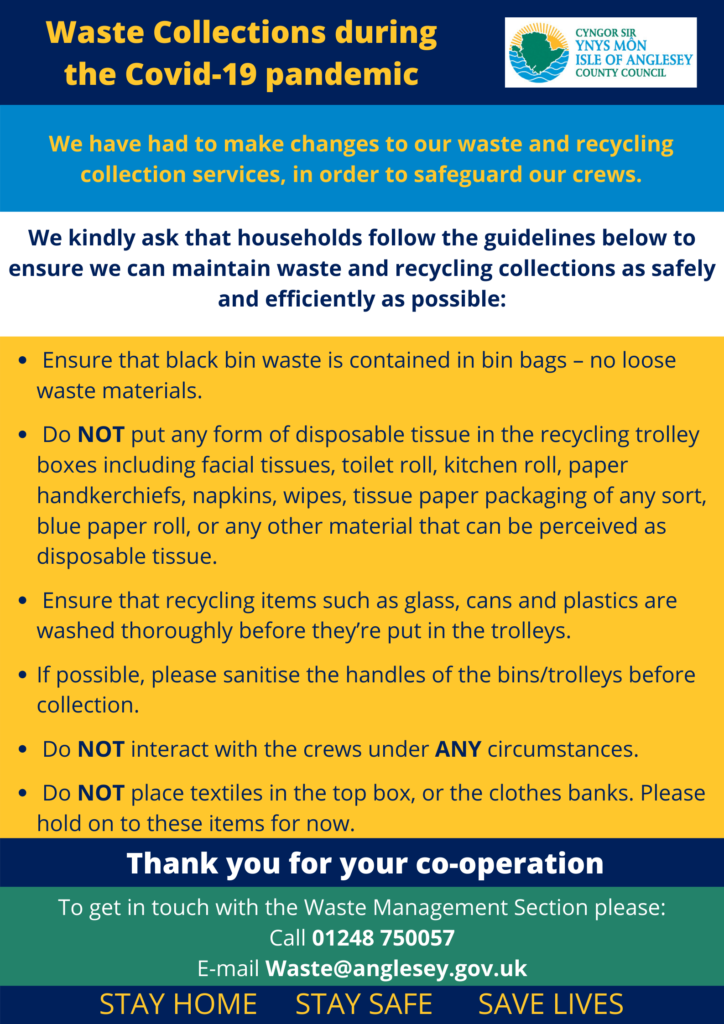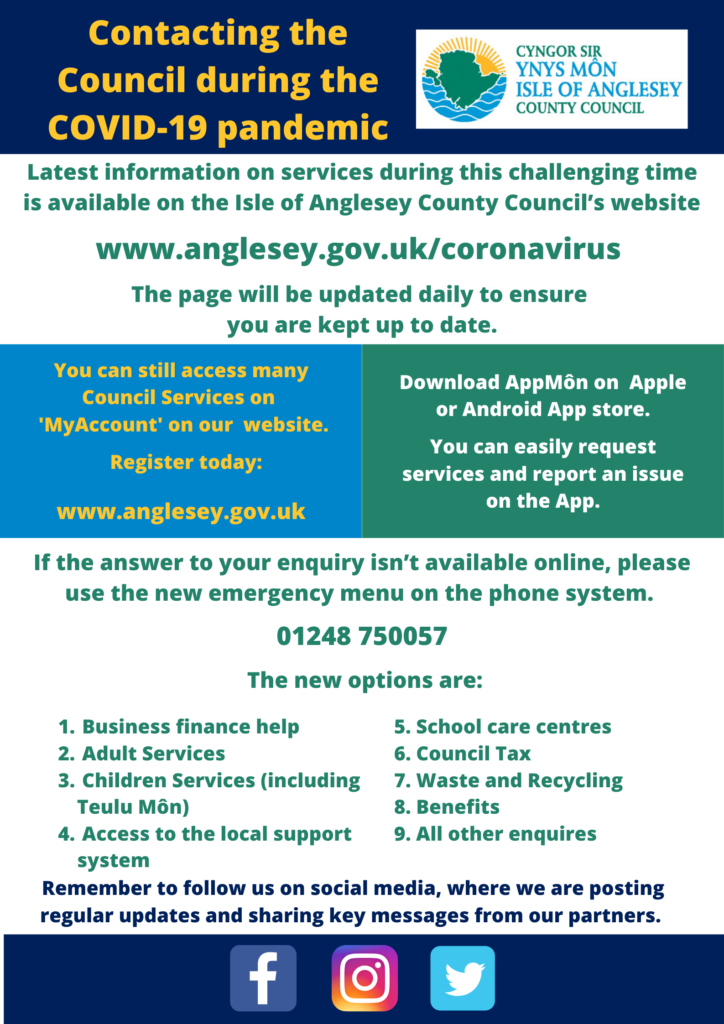 ---
PARC MWD AND PLAY AREA BY VALLEY COMMUNITY SCHOOL
THE PARKS WILL RE-OPEN AT 12 NOON TUESDAY, 7TH JULY 2020.
PARK USERS ARE REQUESTED TO OBSERVE SOCIAL DISTANCING RULES IN LINE WITH CURRENT WELSH GOVERNMENT REGULATIONS.
Further information available on : https://gov.wales/coronavirus
---
Medrwn Mon COVID-19 E-bulletin #4
---
Updated Guidance on funerals
The guidance to local authorities on funerals has now been updated to reflect the amendments: https://gov.wales/guidance-local-authorities-funerals-covid-19
It should be noted that the guidance has also been expanded to cover the personal care of the deceased.  Although, there are no changes to existing advice in this area this section has been included to provide the advice in a more accessible way only.
In addition, the guidance has been updated to suggest that mourners who are self-isolating for 14 days due to someone in their household being unwell with symptoms (but are not symptomatic themselves) or who are extremely vulnerable or in a shielded group should be facilitated to attend the funeral in person should they wish to do so, with processes put in place to minimise the risk of transmission.
---
PARC MWD AND PLAYING FIELD NEAR THE SCHOOL
In order to comply with guidance received, the parks noted above  will be closed until further notice.
---
EMERGENCY CLOSURE NOTICE - Footpath Number 18
---
SUPPORTING OUR COMMUNITY IN VALLEY
Medrwn Môn and Menter Môn are currently trying to establish a list of volunteers who are willing to help vulnerable people in our Community or who may be able to help to co-ordinate a scheme.  If you wish to offer support please either complete the form below and email it to: linc@medrwnmon.org or by telephoning Medrwn Môn on  01248 725745
Volunteer Form (Microsoft Word)
Guidance for Volunteers (Adobe PDF)
---
ISLE OF ANGLESEY COUNTY COUNCIL
UPDATE: Coronavirus: Latest updates about County Council services can be found here:
https://www.anglesey.gov.uk/en/Residents/Emergencies/Covid-19-Coronavirus-information.aspx
Important update regarding the Main County Council Offices, Llangefni.