Bus Shelters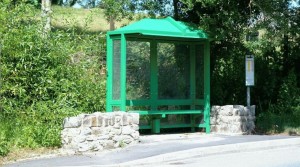 Valley Community Council is responsible for the upkeep of the bus shelters.  Should you wish to report any problems/damage or any other matter regarding the local bus shelters, please contact:
Clerc/Clerk:        Mrs Gwenda Owen Email: valleycommunitycouncil@gmail.com
Tel: 01407 740 046
BUS SHELTER BY THE BULL HOTEL, VALLEY
Valley Community Council are pleased to announce that  a brand new bus shelter will be erected to replace the one recently removed.  It will be erected  on or around the 6th October.