Welcome to the new Valley Community Council Website
Here you will find a wealth of information for residents and visitors to Valley, including:
News & Events
Press release
No strike action – waste / recycling collections as normal next week
Staff working for Biffa - the County Council's waste and recycling contractor - will not go on strike next week.
Industrial action planned between Monday, April 22 and Sunday, April 28 has been called off after a pay agreement was reached between Biffa and its employees.
An Isle of Anglesey County Council spokesperson said, "We are pleased that negotiations between Biffa and union representatives have reached an agreement and grateful to them for resolving this matter without impact on Anglesey residents. The strike has now been called off and our waste collection and cleansing services will continue as normal next week."
"Anglesey residents are advised to place their bins and recycling containers out at their normal collection point by 7.00am and they will be collected as normal."
Please note that Penhesgyn and Gwalchmai Household Waste Recycling Centres will be open at their normal opening times.  Please visit our web site https://www.anglesey.gov.uk/en/Residents/Bins-and-recycling/Recycling-centres-and-recycling-banks/Recycling-Centres.aspx for further information.
Ends 18.4.19
For further information: Gethin Jones, Communications Unit (01248) 752130
---
Notice of Co-Option - Llanynghenedl Ward
NOTICE IS HEREBY GIVEN that the Valley Community Council intends to Co-opt one member to fill the vacancy that exists in the office of Councillor for the Llanynghenedl Ward.
Notice of Co-Option - Village Ward
NOTICE IS HEREBY GIVEN that the Valley Community Council intends to Co-opt one member to fill the vacancy that exists in the office of Councillor for the Village Ward.
---
Remembrance Sunday 11/11/2018
Service in St Michael's Church, Valley 11/11/18 at 11.30 a.m.
Service at Ynys Wen Cemetery, Valley 11/11/18 at 12.45 p.m.
---
---
Notice is hereby given that the audit for the year ended 31 March 2018 was completed on 27 September 2018 and the accounts are now available for inspection by local electors in accordance with Section 29 of the Public Audit (Wales) Act 2004. [ further details ]
Valley Village History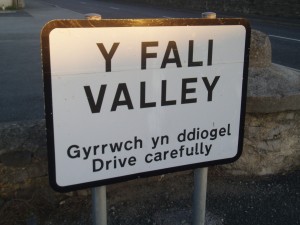 Research into the origins of the name of this village was started by the late Rev. R Hughes of Coedlys, Valley. The research was done for the year ofthe Royal National Eisteddfod, which was to be held locally.
The Rev. Hughes started his research by looking into the parish history. The parish is the parish of Llanynghenedl from whence the Community Council carried its name until a few years ago, even though the village of Valley is many times bigger than the village of Llanynghenedl. Enghendl was a saint who lived in the fifth century and it is thought that the second church at Llanynghenedl was built on the site of the first church. This second church has since been pulled down and the stones taken to RAF Valley for the erection of the church there.
Owen Jones, 'Melidwy Môn', referring on several occasions to the Valley, stated that the name of the village was 'Faelwy' and not Valley as it is presently known. Robert Pierce of Criglas who died in 1881 ages 86 years, an alderman and a local administrator, stated that during the construction of the road from Menai Bridge to Holyhead, a distance of some eighteen and a half miles, the road reached the cob. A small hill was encountered through which a cutting had to be made. On either side of this cutting were areas called 'Glan-Môr Tŷ Coch' and on the northern side, where it is now commonly called Gorad, were land called Castell Llyffant.
One could expect that Telford and his men could not pronounce these names and, after completing the cutting they called area 'Valley', in accordance with the new geography. This particular area since became known as 'Hen Valley' and the main village 'Valley'. This puts the name as originating about the year 1822.
Abstracted from Valley, memories of a growing village with permission from J. Alun Shorney